Death Becomes Her
A month or two ago, I knew Death Becomes Her only as the theme of THAT Violet Chachki runway look on RPDR. Now, I am enlightened and ready to evangelize. Death Becomes Her is a 1992 black comedy starring Meryl Streep as Madeline Ashton, a vain has-been actress, Goldie Hawn as former friend Helen Sharp, and Bruce Willis as Dr. Ernest Menville, a sniveling plastic surgeon turned makeup artist 4 corpses. It was directed by Robert Zemeckis, a name you might recognize if you're a fan of Back to the Future, Forrest Gump, or Contact. For those of you unfamiliar, a summary: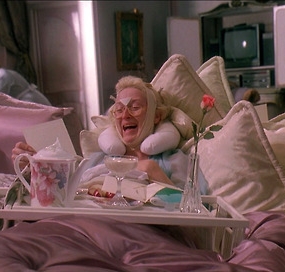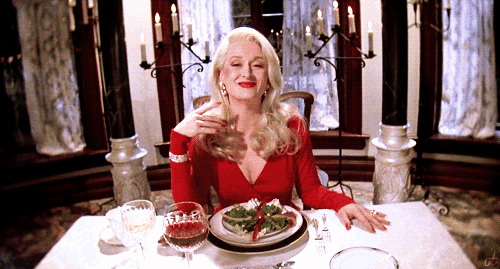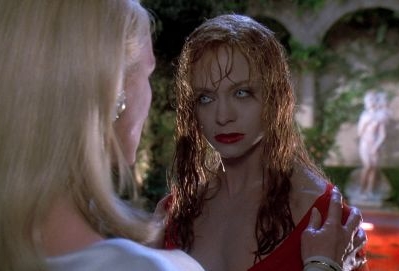 The film opens with 70's Madeline in the preforming in a Broadway flop, serving a tearaway gown and singing her way down a staircase. Cheesy vaudevillian glamour baby!! In the audience is Helen and fiancee Dr. Menville. They meet Miss Ashton backstage and split seconds later, Madeline and Ernest are married. This sends Helen reeling and we see her as a grossly overweight cat lady whose only happiness is watching Madeline Ashton's fictional death on tv- over and over and over. A bitch is bitter!! She winds up in a mental institution, where the fixation continues endlessly. We jump ahead several years to see an aging Madeline. She wakes up to luxury and compliments whereas Ernest wakes up on the floor to a bloody mary and pills. They head out to the release party of a self-help book written by none other than Miss Sharp. The obsessively vain Madeline, hoping to boost her own confidence by comparison, is stunned to see that Helen has metamorphosized into a flawless legend in a bright red dress, red hair, red lips, and red nails. Everyone is gagged!!
She wastes no time seducing the dilapidated Dr. Menville. She's also assembled the vain woman's murder wall: a murder mirror. Madeline pays a visit to the mysterious, mostly naked Lisel Von Rhuman (Isabella Rossellini), whose top is just a big necklace. We veer into the fantastical as Madeline buys and throws back a potion designed to stop the aging process in its tracks and shift it into reverse (her body basically photoshops itself). Meanwhile, Helen is blue balling Ernest into murdering Madeline in an elaborate plot, my favorite part of which is finishing diner. Back at home, Ernest SNAPS after yet another fight with his condescending wife and pushes her down a flight of stairs. She falls QUITE spectacularly and just like that- she's dead. Then just like that- SHES NOT! Thanks to the potion, she'll be going forever despite being medically deceased, which causes a whole new set of upkeep problems, which Ernest helps her with.
Back at the house, Helen rolls up shovels in hand, ready to put Madeline underground once and for all. Things don't go as planned and Madeline shoots her right in the stomach, sending her FLYING into the pond. Just like that- she's dead. Then just like that- SHES NOT! She, too, had taken Lisel's potion and next thing you know, the two undead women (one in ice white, one in devil red) are duking it tf out with shovels bought for burying and catty one-liners, like cartoons come to life. They manage to patch up their past and bond over their looks and mutual need for Ernest's help. They try to convince him to take the potion as well at one of Lisel's elaborate parties (attended by the likes of Marilyn Monroe, James Dean, and Jim Morrison), but he reject eternal life on the grounds that immortality is a prison, and skips town for good.
We jump ahead 37 years to Ernest's funeral and discover via eulogy that he went on to remarry and lead a very full life- all while Madeline and Helen snicker in the back of the church. They're bickering like an old married couple and are trapped in their disintegrating bodies forever, botched paint jobs and all.
I won't try to analyze Death Becomes Her because so many have done so already (and probably better than I ever could), but I will acknowledge its queer legacy/cult following (see this Vanity Fair piece). I was pretty taken aback by how the movie's inspired so many people (especially artists) with its over the top fable and desperate women willing to do anything to stay in control of their bodies and images. It took me a little too long to realize that 'becomes' is being used in the title to mean 'suits, flatters.'
Visually, the color palette is pretty neutral/cool with punches of red and plenty of black + white. The score also kills (pun unintended)- it was written by Alan Silvestri and perfectly captures the kooky/campy yet foreboding mood of Death Becomes Her. All in all, this is pretty much a classic, and one of my new favorite Merryl Streep performances. More soon!